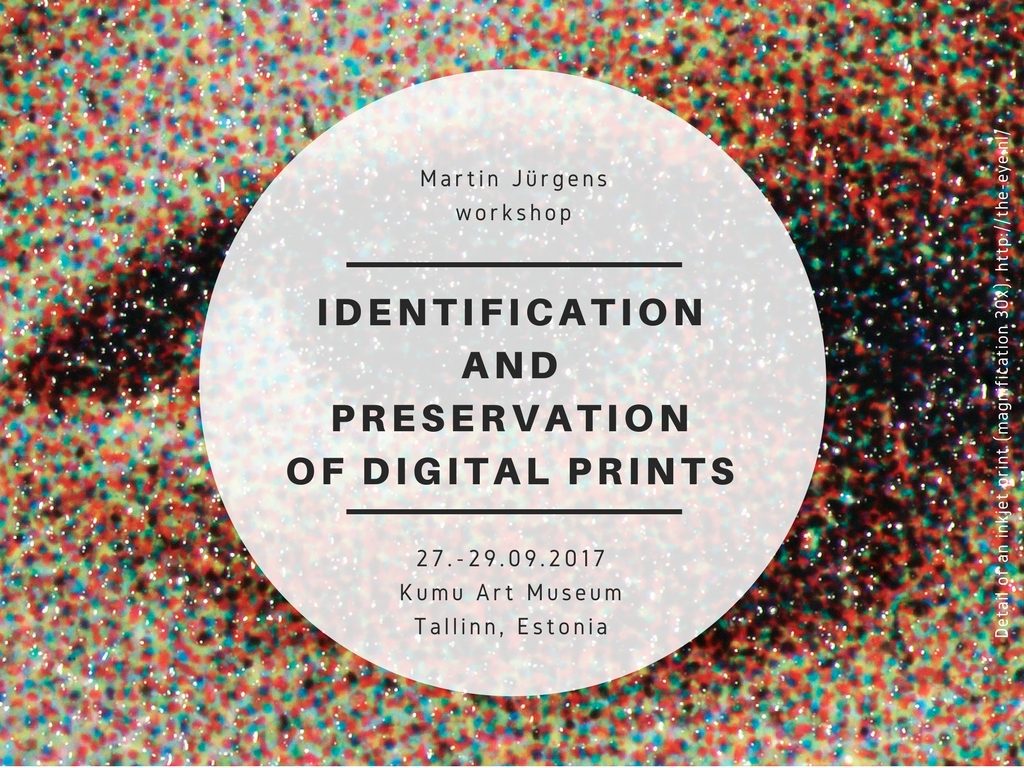 Estonian Photographic Heritage Society (EPHS) in association with the Art Museum of Estonia is presenting 3-days workshop "Identification and Preservation of Digital Prints" by Martin Jürgens (Rijksmuseum), at Kumu Art Museum, Tallinn, on September 27-29, 2017.
In this workshop participants will be introduced to the history, materials and techniques of digital printing. Deterioration mechanisms will be examined, and preservation strategies of handling, mounting and storage will also be taught. Workshop language is English.
Martin Jürgens is conservator of photographs at the Rijksmuseum, Amsterdam. His areas of research and publishing, and his teaching worldwide have covered historic and contemporary photography and digital printing. Following a scholarship at the Getty Museum in 2006, the Getty Conservation Institute published his book "The Digital Print. Identification and Preservation" in 2009. In 2017, his new website the-eye.nl was launched.
For more information, see full programme (pdf). Full fee is €90, discount €70 is available for members of EPHS and BAAC. Due to its limited size, a geographically and professionally diverse group of participants will be chosen. Applications must be received by 6 September via registration form. Selected participants will be announced by 8 September 2017.
In addition to the workshop, the Estonian Photographic Heritage Society in association with the Tallinn Photomonth is presenting free public lecture "What is (and what isn't) a photograph today?" by Martin Jürgens, at the Estonian Photographic Art Fair in the Telliskivi Creative City on Saturday, 30 September 2017 at 2pm. More information at fotokuu.ee.
For further questions regarding the workshop, please contact:
Kadi Sikka, event coordinator / kadi@photoheritage.org.ee
Thank you: Art Museum of Estonia, Estonian Cultural Endowment, Estonian Ministry of Culture, Baltic Audiovisual Archival Council (BAAC), Tallinn Photomonth